Business Cards - Premium Business Cards (Both Side Printing)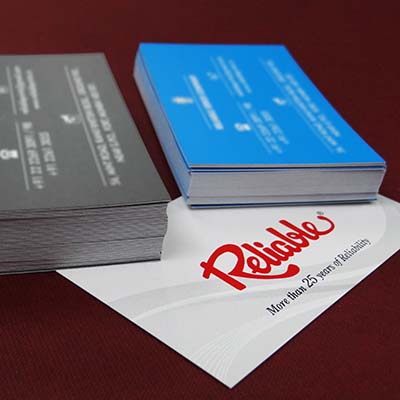 PREMIUM BUSINESS CARDS - BOTH SIDE PRINTING
The perfect way to create an impact. Classy & Rich looking business cards with a wide choice of media and additional coats.
- Starting at Rs. 550/- for 100 cards.
- Create in minutes
- 4-color printing on various types of card stock
- One or both side printing
- Glossy or matt finish available
---
Delivery Schedule :
Print Orders for Door-Step Delivery & Local Pickup (Available at Mumbai Retail Outlet only) will be processed in 2-3 working days (Mon - Sat)
Express Orders for Mumbai will be processed in 1-2 working days (Mon - Sat)
* Shipping time is extra based on the location to be shipped.
---
Your business has need of affordable, Double Sided Business Cards? Reliable Prints, offers high quality premium business cards that are dual sided and of superior quality that matches your business standards. Take full advantage of the meeting with your prospective client and opportunities that lie in store for you and your company with your business identity printed in premium quality to leave a lasting impression.

Business cards are the first touch point between you and the prospective client and a business card can certainly make or break the much coveted opportunity. If you do not get your business card rightly done, you may lose out on a lot of new business prospects awaiting you.

If the printing quality of double sided business cards is sub-standard it can definitely affect the perception your clients may have of you and your company for years to come. Exchange up-to-date contact information on your premium business cards. Changed office recently? Have a new address? Make sure you print new cards to convey that to your clients and people you exchange business cards with otherwise. Scrapping or pasting paper to reflect the new address does not speak high of you or your business. If you are a new start-up, make a lasting impression with your business cards at the very first meet is all the more important.

From 350gsm gloss art card to matte art card to even 270 gsm natural cards and kentex ivory cards, we have an option to suit your taste and style. Not just type of paper media you can even customize the business card size from 89.9mm x 50.8mm (3.5 inch x 2 inch) to 85mm x 55mm to 92mm x 54mm.

Printing on Reliable Prints website is super easy. If you have a design ready for your card, simply upload it, add your delivery address, confirm payment and design layout and your premium business cards are on the way to be printed. If you still do not have a design for your double sided business card ready, do not worry! Choose from a varied array of design templates, design your business card and once you have a layout you like, simply add your details, make payment, confirm your delivery address and your business cards are ready to go in print. Our printing is quick, of premium quality, and at mind-boggling
prices. Think no further, place the order for premium double sided business cards today.
Size
Quantity
Price
88.9mm x 50.8mm (3.5" x 2")
100
Rs. 550.00
200
Rs. 950.00
300
Rs. 1,350.00
500
Rs. 2,000.00
1000
Rs. 3,350.00
85mm x 55mm
100
Rs. 550.00
View More